Helping Kids Learn the Value of a Dollar. Earn Pineapples too!
With the kids home from school for the remainder of the school year, parents are looking for tools and resources to keep them entertained but also still learning. Becoming homeschool teachers was not on the radar for most parents, and it can be daunting.
At Pyramid Federal Credit Union, we offer a number of financial literacy tools to add to your homeschool toolbox. And, YES, we said "Earn Pineapples!"
How, you ask?
Check out our exciting partnership with Zogo, a new interactive mobile app that pays you to learn about finances, literally! With hundreds of financial education topics and short quizzes, Zogo users earn pineapple rewards that they can redeem for gift cards. It's an easy and fun learning experience for all ages.
Grab your smartphone or tablet and head to the App Store to download the Zogo App: For Apple and Android mobile devices.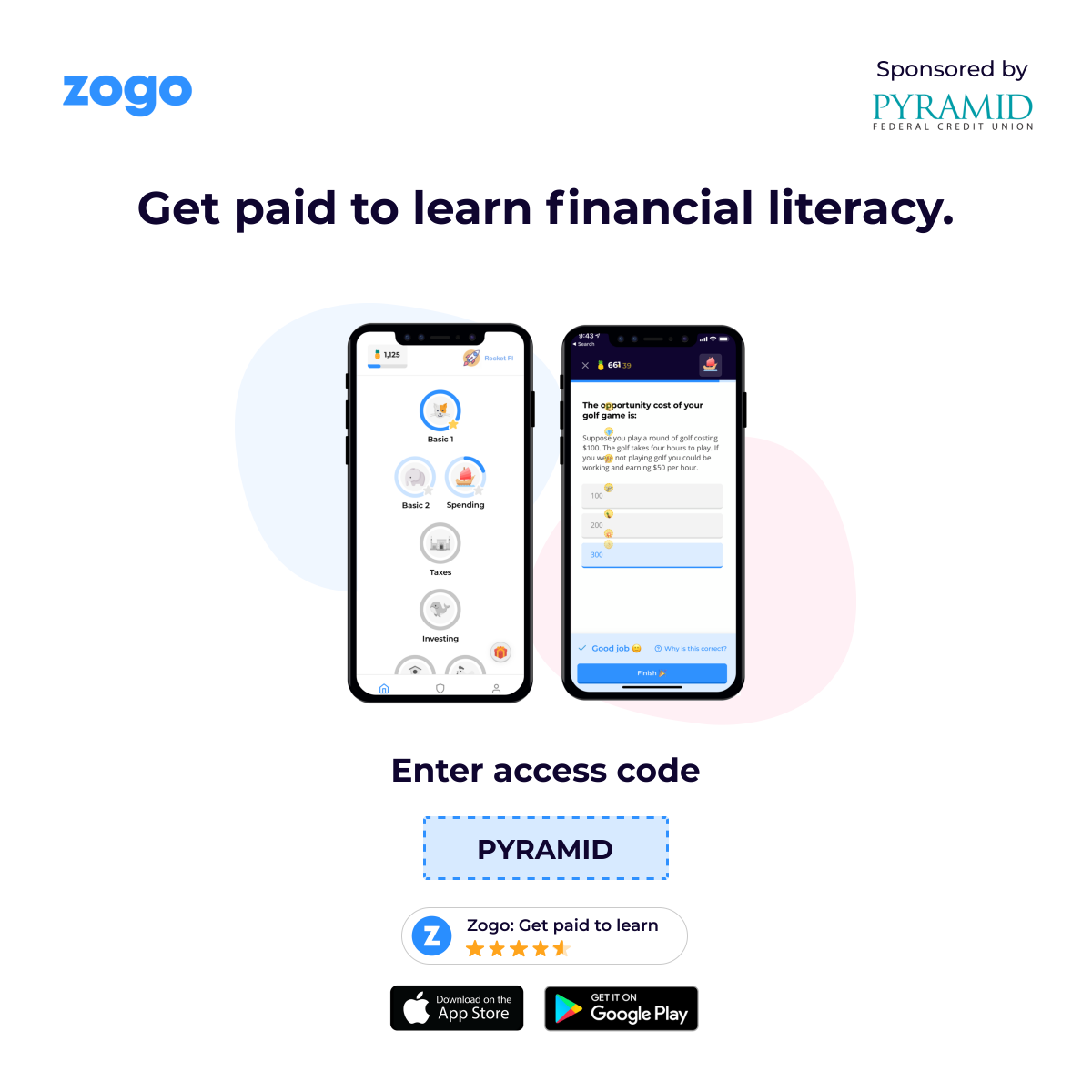 Be sure to enter the access code: PYRAMID to connect with us along your pineapple-earning adventure.
---
But wait, there's more.
We also offer Banzai, an interactive online program designed to teach real-world financial education in a fun, safe way... for free!
Banzai is accessible any time from any internet-connected device. Login and create your own unique profile where you can start your journey exploring the concepts of budgeting, savings and other financial fundamentals.
With three financial literacy courses, there's something for the whole family: Banzai Junior for elementary grade students (ages 8 thru 12), Banzai Teen, designed for middle, junior high, and high school students (ages 13 to 18) and Banzai Plus, with advanced concepts we all can benefit from (ages 16 and up).

Check it out here at Banzai Courses. 
Banzai challenges users with everyday financial scenarios, such as saving for a goal and dealing with setbacks. Learn how to track income and expenses, which teaches financial trade-offs: spending more in one area means spending less in another.
Parents can even benefit from some of the Banzai Direct tools, including a variety of budget and savings calculators, interactive financial coach sessions on buying a home, preparing for retirement, and getting out of debt, and articles on numerous financial wellness topics.