Manage your day-to-day finances easily and securely with a Pyramid Checking account.
As a Pyramid Federal Credit Union member enjoy:
•    24/7 account access with secure Online and Mobile banking
•    Free and easy online Bill Pay
•    Instant Issue debit card, accepted everywhere Visa®  cards are accepted
•    Free access to cash at over 85,000 ATMs across town or around the world
Explore our options to find the account that best suits your needs.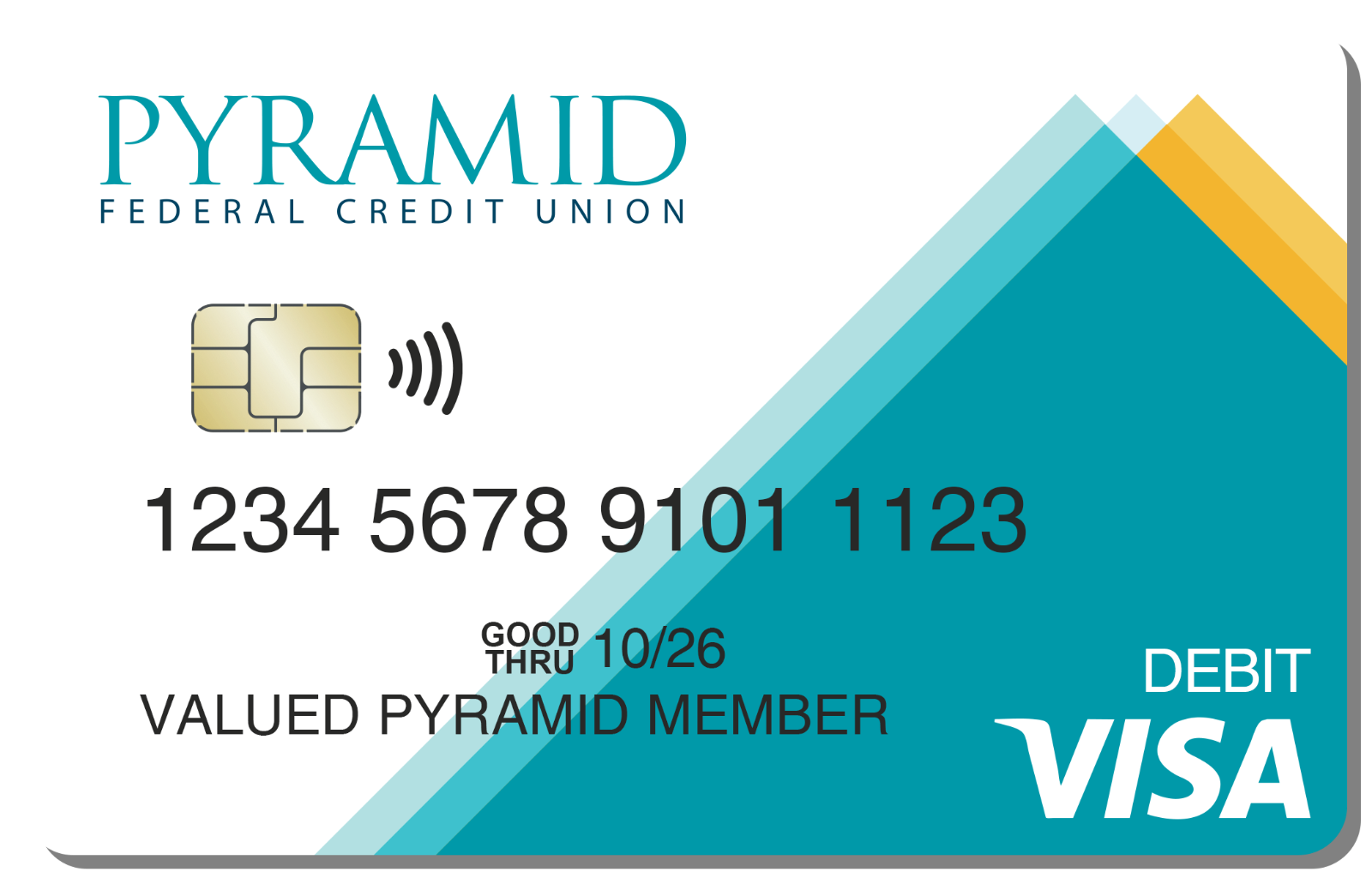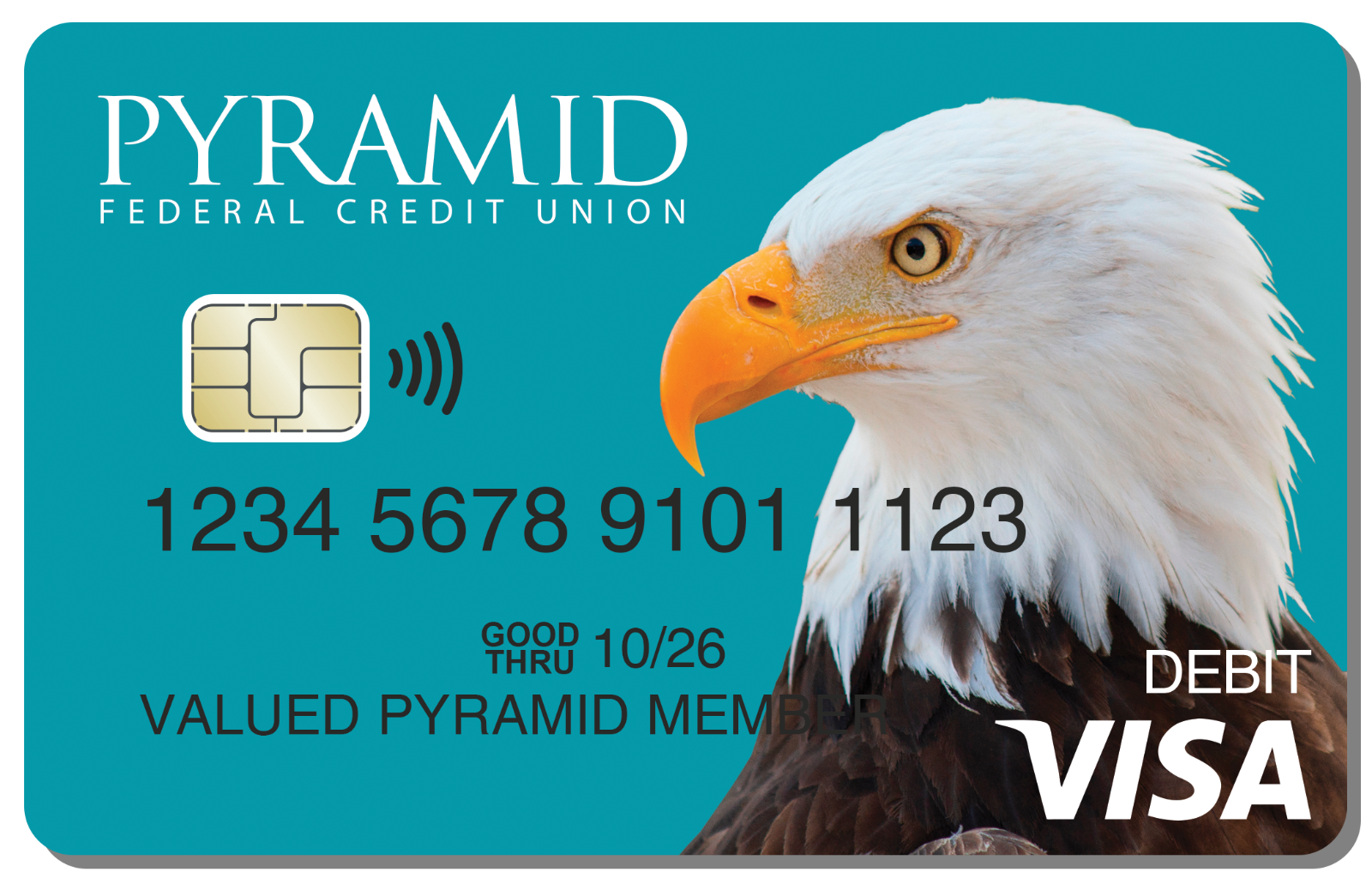 FREE CHECKING*
Our free Checking account is simple, secure, and convenient. Manage your money with free Online and Mobile banking, easily access your funds with a Visa debit card, and receive eStatements with no monthly service fee and no minimum balance.
OVERDRAFT PROTECTION**
We know it can embarrassing to get stuck without enough cash at the register. Our overdraft protection program covers you when making a withdrawal from your Checking account but don't have enough money to cover the charge.
SECOND CHANCE CHECKING
Need to pay bills, but can't get approved for a checking account at another financial institution? That can be tough—and defeating. Pyramid's free Second Chance Checking might be what you've been searching for. Second Chance Checking is designed to help members rebuild credit and get a fresh start on the path to future financial success.
•    Must be at least 18 years old
•    Current and past account(s) with Pyramid must be in good standing
•    No fraud report
*Basic Free Checking account fee disclosures. Insufficient Funds Fee(NSF) - $29. Fees for overdrafting accounts(ODP) are fees imposed for overdrafts created by checks, in-person withdrawls or other electronic transfers - $29. Bad Address fee - $10 monthly.
**OVERDRAFT PRIVILEGE DISCLOSURE (A Discretionary Overdraft Service) It is the policy of Pyramid Federal Credit Union (the credit union, "we", "us", or "our") to comply with applicable laws and regulations, and to conduct business in accordance with applicable safety and soundness standards. A non-sufficient funds (negative) balance may result from: A) The payment of checks, electronic funds transfers, or other withdrawal requests; B) Payments authorized by you; C) The return, unpaid, of items deposited by you; D) Our Fees/Charges; E) The deposit of items which according to our Funds Availability Policy, are treated as not yet "available" or finally paid. We are not obligated to pay any item presented for payment if your account does not contain sufficient collected funds. Rather than automatically returning, unpaid, any non-sufficient funds items that you may have, if your eligible account has been open at least ninety (90) days and thereafter you maintain your account in good standing, which includes at least: (A) Continuing to make deposits consistent with your past practices, (B) You are not in default on any loan obligation to us. (C) You bring your account to a positive balance (not overdrawn) at least once every thirty (30) days, and (D) Your account is not the subject of any legal or administrative order or levy, we will consider, without obligation on our part, approving your reasonable overdrafts; as a purely discretionary overdraft "privilege" or "courtesy". This discretionary service will generally be limited to an $800 overdraft (negative) balance for eligible personal checking. Of course, any and all fees and charges, including without limitation our non-sufficient funds/overdraft fees (as set forth in our fee schedules) will be included in this limit and will apply to any transaction that may overdraw your account (see "ELIGIBLE ACCOUNT AND TRANSACTION TYPES"). Transactions may not be processed in the order they occurred which can affect the amount of fees charged. Whether your overdrafts will be paid is discretionary and we reserve the right not to pay.  For example, we typically do not pay overdrafts if your account is not in good standing or you are not making regular deposits, or you have too many overdrafts.  You will be notified by mail of any non-sufficient funds items paid or returned that you may have; however, we have no obligation to notify you before we pay or return any item. The amount of any overdrafts plus our Non-Sufficient Funds and/or Overdraft (NSF/OD) Charge(s) that you owe us shall be due and payable upon demand. If there is an overdraft paid by us on an account with more than one (1) owner on the signature card, each owner, and agent if applicable, presenting the item creating the overdraft, shall be jointly and severally liable for such overdrafts plus our Non-Sufficient Funds and/or Overdraft (NSF/OD) Charge(s).
LIMITATIONS: Savings Type Accounts, Money Market Accounts, Public Fund / Charitable Organization Accounts, Student Minor Accounts, and Other Minor Accounts (not of legal age) are not eligible. We may limit the number of accounts eligible for Overdraft Privilege Service to one account per household and/or one account per tax payer ID.
ELIGIBLE ACCOUNT TYPES: The account types that are eligible for the Overdraft Privilege Service are any Personal Checking account.
ELIGIBLE TRANSACTION TYPES: Each transaction/item initiated for payment against your checking account(s) may be processed by us using your assigned Overdraft Privilege Service limit, including without limitation: Checks, ACH, Electronic Items/ Debit Card / Internet/Online transactions (bill payment), and Telephone transactions.
OPTIONAL OVERDRAFT PROTECTION SERVICES: you may apply for overdraft protection from an established line of credit account and/or funds transfer from a designated asset account. If you qualify for these services, you may save money on the fees/charges you pay us for overdraft protection.
MEMBER OPT-OUT: You may choose at any time not to participate in our Overdraft Privilege Service by notifying one of our member service representatives.
IF YOU NEED HELP: Of course, overdrafts should never be used to finance ordinary or routine expenses - and you should not rely on overdrafts to cover these expenses. If at any time you feel you need help with your financial obligations please contact a member service representative at (520) 795.7950
ALWAYS A DISCRETIONARY SERVICE: Our Overdraft Privilege Service does not constitute an actual or implied agreement between you and us. Nor does it constitute an actual or implied obligation of ours or by us. This service represents a purely discretionary privilege or courtesy that we may provide to you from time to time and which may be withdrawn or withheld by us at any time; without prior notice or reason or cause.