Online & Mobile Banking Services
We're continuing to improve the way you bank, giving you anytime digital access to help you take care of your banking needs online, via mobile device, or over the phone - all without leaving your home. Experience Pyramid's newly enhanced Online and Mobile Banking services by logging in today.
All of your Pyramid accounts in one central dashboard

Check account balances and review activity

Apply for a loan securely from your online account

Pay your bills easily and conveniently on your schedule

Make loan and credit card payments

Transfer money between accounts, and to another Pyramid member

Deposit checks on the fly using our Mobile App

Lock  your Pyramid Debit or Credit Card for added security

Find branch and ATM locations near you 

Access eStatements and set Account Alerts
Setting Up and Accessing Your Online Account
How do I enroll in Online and Mobile banking?
All users will need to enroll in the new system. The Enrollment link can be found on either the desktop application (via a web browser) or on the Mobile App login page.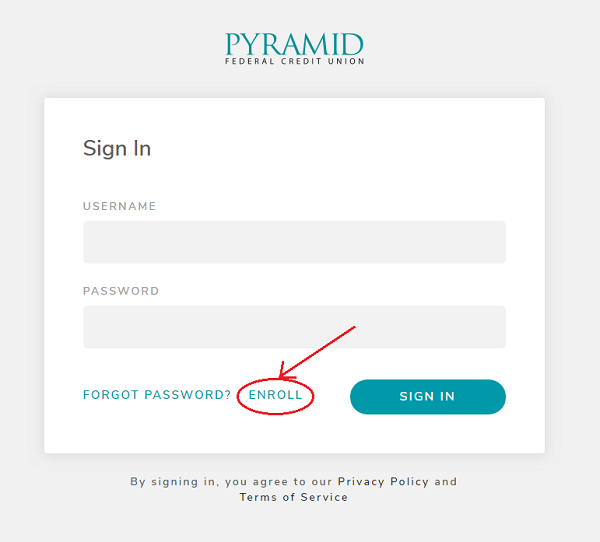 Click the ENROLL link and enter the requested information. Once your information is confirmed, you will be asked to create a Username and Password. You will use the same Username and Password to access your account from your desktop or Mobile App.
The PRIMARY account holder will need to create a new online account first. If JOINT account holders would like to have their own unique login, you will need to contact us to set up joint member access. 
Make sure we have up-to-date contact information including address, email and mobile phone numbers. This information is used for security verification. Inaccurate information may delay your enrollment.
Is there a new Mobile App?
Yes - you will need to download our new Mobile App. The App icon will have a turquoise background with the Pyramid name and triangle in white. The previous Mobile App will no longer work.
Here are the links to both android and iOS downloads.
What is the criteria for a Username and Password in the new system? Can I use my old ones?
Your Username must be at least 4 characters in length and can be any combination of letters and numbers, but cannot contain special characters. Your Username cannot be your account number or just numbers. 
Your new Password must be at least eight characters, including at least one uppercase letter, one lowercase letter, one number, and at least one special character like !@$.
If your old Username and Password meet the above criteria, you should be able to use them. Follow the instructions on the enrollment form.
I forgot my Password. How do I reset it?
Click the "Forgot Password" link on the Online Banking login page or on the Mobile App. If the information you submitted is verified, you will be prompted to create a new password.
Passwords will need to be changed every six months. You will not be able to re-use the same password. 
I forgot my Username. How can I find out what it is? Can I change it?
This feature is not currently available. If you forgot your username or would like to change it, you will need to contact us during regular business hours for assistance. This feature is scheduled as a future enhancement.
Can I log into the Mobile App using Touch ID or facial recognition?
Yes, the Mobile App works with facial recognition for iPhones and Touch ID for iPhone and Android devices. To set it up, first make sure facial recognition and/or Touch ID is enabled on your device. Then login to the Mobile App and go to the 'More' menu to enable this feature. You can also set up a PIN for mobile login as well.
Navigating Online Banking
What are the menu options?
On Desktop (from a browser)—the Menu is displayed across the top of the screen. Frequently used menus for Accounts (Home), Bill Pay, Transfer, Cards, and Apply for Loan are followed by … MORE. On the far right is the Sign Out tab.
From the MORE menu, you can select from the following options: Alerts, Profile, Stop Payment, Statements, Messages, Order Checks, Locations, Contact Us, Privacy Policy and Terms & Conditions. Some of these functions are only available on Desktop:  Alerts and Check Re-Orders. 
On Mobile (using Mobile App)—the Menu is displayed at the bottom of screen. Menu options on Mobile include Accounts, Bill Pay, Loans and …MORE. In the center of the bottom menu, you will also see a gold circle with a '+' sign to access features such as transfers, mobile deposit and card controls.
The Mobile Check Deposit feature is only accessible through the Mobile App.
Can I change the way my accounts are displayed on the home page?
YES. We recommend you login on a desktop (browser) to set up your account dashboard, group accounts, and set alerts. On the home screen you can view your accounts as tiles or in a list/table. The default display is tiles. For the Tiles display, you will see a gold colored icon with 3 rows and 3 columns highlighted next to Your Accounts.
To change to List view, click on the gold colored icon with 3 horizontal lines.
You can also Group accounts, such as Savings, Loans, and Other Accounts. On the home screen, select the Group Accounts button and enter a Group Name in the Add New Group field next to the pencil icon.
The "Nickname" accounts feature will be added in a future update. 
I can't see all of my accounts. What can I do?
On Desktop—After logging in to your Online account, in the More menu, select Profile. Then select HIDE & SHOW ACCOUNTS. All of your accounts are displayed here. You can toggle between Hide and Show in the Action menu to the right.
On the Mobile App—After logging in, select ... in the bottom menu and then select App Settings. From there, go to the Hide Account tab, where you'll see the Hide and Show buttons for each account.
If you can't see an account after you login, be sure to check to see if the account was hidden from displaying by using the Hide & Show Accounts tool. If you can't see the account at all, please give us a call to assist you.
Will I be able to see my account number in Online and Mobile Banking?
Yes. You will be able to see your full account number(s). On the homepage, you will see '…' to the right on each account tile. Click on the 3 dots. From here you can Hide the account from your dashboard and also Show the full account number for this account.
Will I be able to create nicknames for my accounts?
Unfortunately, creating account nicknames is not available at this time. You can use the Group Accounts feature to keep your Shares, Joint Accounts and Loans separated.
We expect to have this feature available in an upcoming update. 
Can I apply for a Loan within Online Banking?
Yes. From the main menu, select Apply For Loan. You can apply for a new Credit Card or request an increase in your credit limit, as well as apply for a Personal or Vehicle Loan directly from your Online or Mobile Account. This saves time as much of your personal information is directly transferred to the loan application from your credit union account.
Where is the Sign Out button located?
The Sign Out link is located in the upper right corner within online banking.  If your screen is not fully expanded and the sign out button is not showing or if you are using the Mobile App, you can find the sign out link in the 'More' tab.
Making Transfers and Loan Payments
How do I transfer funds in Online Banking?
Just like before, you can make transfers in your Online and Mobile accounts through the Transfers tab.
Select which account you are taking the money from and then select where the funds will be deposited/credited to. You can set up a single (one-time) transfer or schedule a series of transfers by checking the "Repeat" box. Recurring transfers must be set to begin at least one (1) day from the current date.
What if I want to transfer to another Pyramid member account?
From the Transfers menu select Member Recipient (formerly Cross Account Transfer).
Enter the information for the Pyramid Member you wish to transfer to and click Continue. Once you set up a Member Recipient, you should see this account in your Transfer To account list and will not have to re-enter the cross account information again for future transfers. 
Will internal transfers show on the transfers screen?
Yes, you will be able to see all scheduled transfers in your online account.
However, you will only be able to edit or cancel transfers that you set up in Online Banking. If you want to change or delete an ACH or other automatic payment, you will need to contact us during regular business hours.
Will scheduled transfers that I set up prior to conversion still be there?
NO, previously scheduled transfers that you set up in Online Banking will not be processed after the conversion. ACH payments, Direct Deposits, Debit Card payments or other automatic payments that you set up with us at the credit union will not be impacted.
I'm trying to transfer to a loan, will it show the minimum payment due?
Yes, once selected if there is a payment due it will show the amount due and the loan balance. Click on the loan tile to view your transaction history and loan information, including due date, interest rate, and more.
Is there a limit on how much I can transfer?
Yes, there is daily transfer limit of $10,000. You must have the funds available in the account or the transfer will not process.
Will credit card or loan payments be immediate or is there a delay?
Payments made from your Pyramid FCU account to your Pyramid Credit Card account will be immediate if funds are available in your pay from account. 
Currently, you cannot pay a Pyramid loan account from another financial institution within your online account. You must set those payments up with the other financial institution.
We can accept non-Pyramid Debit or Credit Card payments for a Pyramid loan over the phone during regular business hours. There is a fee for this service. 
Will I still use Centennial Lending to access my mortgage information?
You will be able to see your balance and payment information in your Pyramid FCU Online Banking account, but you are not able to make a direct payment through your online account. Your Centennial mortgage information and payment options will be available through Centennial's online portal. We can also set up an automatic ACH payment from your Pyramid account to Centennial if you prefer.
What is Bill Pay?
Bill Pay is a free service offered to Pyramid FCU members through your online account. Rather than writing your own checks and mailing payments, with Bill Pay you can set up payments to individuals and merchants on a one-time or recurring basis. The Bill Pay provider then processes those payments on your behalf. Many merchants now participate in Bill Pay programs and accept electronic payments so your payments arrive in just a few days. There are still some merchants who require check payments, so you need to make sure you are scheduling your payments with enough delivery time to reach the merchant on or before the payment is due. 
You must have a Pyramid checking account to enroll in Bill Pay.
How do I sign up for Bill Pay?
We recommend that you first login to your Online Banking account on a desktop/laptop computer to enroll in Bill Pay.
From the main menu, select Bill Pay. You will be asked a number of validation questions and will set up challenge phrases to secure your Bill Pay account. 
Once you have enrolled in Bill Pay, you can add payees and schedule payments within the Mobile App as well. 
There are some helpful video tutorials in your Bill Pay dashboard. 
How do I set up Payees in Bill Pay?
Once you are enroll in Bill Pay, you can begin to set up your Payees - these are the merchants, businesses or people you would like to send payments to. From the main Bill Pay menu, select Add Payee and begin entering the requested information (account number if applicable, name, address and phone).
After your Payee is set up, you will be able to see whether payments will be sent as electronic payments or as regular mailed checks. Electronic payments are typically processed in 1-2 business days, where mailed checks can take up to 10 days to reach the payee. Be sure to plan accordingly to avoid late payments. 
How do I schedule payments? Is there a cut-off time for processing payments?
After you have set up your Payees, you can begin to schedule Bill Pay payments. Enter the amount and the date you want to schedule your payment. Be aware of the processing time (electronic or mailed payments vary from 1-2 days up to 10 days delivery time) when scheduling payments. 
Your funds will be withdrawn from your Pyramid checking account on the process date. 
Same day payments must be scheduled BEFORE 2PM or they will process on the next business day. Bill Payments are not processed on weekends or federal holidays. 
If you receive an error message of "Invalid Process Date," check the scheduled date and select the next business day to continue. 
Does Bill Pay work using the Mobile App?
YES. Once you enroll in Bill Pay, you can Add Payees and Schedule New Payments from within your Mobile App. Not all Bill Pay features are available within the Mobile App. For the full functionality, login to your Pyramid Online Banking account from a desktop/laptop browser. 
How do I make a remote check deposit?
First, you must download the Pyramid FCU Mobile App. This service is not available through a desktop (browser-based) login. 
From your mobile device or tablet, login to your Mobile App and then select 'Deposit Check.' Follow the steps to take a photo of both sides of the paper check.
Be sure to carefully follow the instructions regarding check amount limits and proper endorsements. DO NOT destroy the paper check until you have confirmation that the deposit was accepted and credited to your account.
How do I endorse the check for mobile deposit?
This is a very important step. You must write the words "FOR MOBILE DEPOSIT ONLY TO PYRAMID FCU" on the back of the check, as well as writing your account number and signature on the back of the check.
Some checks have a small box to check that says Mobile Depost. This is NOT a sufficient endorsement and your mobile deposit will be rejected.
Failure to include any of the above endorsements on the back of the check will result in the mobile deposit being rejected.
Are there limits in the amount of money that can be deposited this way?
The daily limit for all mobile deposits is $5,000. Single checks or multiple check deposits exceeding those limits will be rejected.
What do I do if my mobile deposit is rejected?
DO NOT destroy the paper check. If you receive a message that you did not include the appropriate endorsement, make sure you hand write specifically - "FOR MOBILE DEPOSIT ONLY TO PYRAMID FCU" - above endorsement and re-scan the check through the Mobile App.
Even if your Mobile Deposit is submitted successfully, DO NOT destroy the paper check for at least 30 calendar days after the deposit posts to your account.
When are my funds available after a mobile deposit?
IMPORTANT NOTE: Just because your mobile deposit was submitted sucessfully, it doesn't mean that the money is immediately available for use.
All mobile deposits are subject to our Funds Availability Policy and may not be available for 1-2 business days after deposit. Some deposits may be placed on additional holds before the funds are released.
See page 17 of the Membership Agreement for details on the Funds Availability Policy. 
Understanding Account Alerts and Card Controls
What are Account Alerts?
Account alerts can be set up to notify you of various account activities. These include high and/or low balances, when a payment is due, or when a deposit is posted.
Account alerts are set up in Online Banking in the 'More' menu. You can choose to receive an email or text alert, or both. Setting up Account
Alerts must be done from a desktop (browser) login, not from the Mobile App.
Is there a way to lock my Pyramid Debit and/or Credit Card?
Yes. This new feature allows members to lock and unlock their Pyramid Debit and/or Credit cards right from within Online or Mobile Banking.
If your card is lost or stolen, immediately go to the Cards menu to control access. Select the card(s) to block instantly at any time. If your card is found, you can simply unblock it and continue using it. This gives you peace of mind during after hours that your card cannot be used fraudulently until you can contact us.
Contact us during regular business hours if you need us to re-issue a new card.
Setting Up and Viewing eStatements
**Visa eStatements Now Available**
How do I enroll in Online Statements?
When you enroll in Online Banking, you will be able accept the terms and conditions to receive electronic statements and notices. If you do not choose to receive eStatements when you enroll in Online Banking, you can update your delivery preferences by completing this form, or give us a call at (520) 795-7950 during business hours. 
How do I view my Online Statements?
After enrolling, you will be able to view your available eStatements by navigating to the 'More' menu and selecting Statements. eStatements are available approximately one week after the end of each month.
VIEW/SAVE/PRINT eStatements
To view your eStatements, go back to the MORE tab and scroll down to the Statements menu. If you get an error message, re-check to make sure you have agreed to the terms in the E-DOC Preferences in your Online Banking Profile. If you continue to have problems retrieving your eStatements, give us a call.
We recommend that you login in to your Online Banking account through a browser (desktop/laptop) and NOT through the Mobile App to be able to view, print and download/save your eStatements. Currently you can ONLY VIEW your eStatements in our Mobile App. 
Will my old eStatements be viewable in the new system?
If you had previously been receiving eStatements, you will be able to see up to the last three years' worth of statements. Statements earlier than those for the year 2020 will be in pdf format and require an installed document reader such as Adobe Acrobat to access.
If you are a new member, you will be able to see your online statements the month after you enrolled in eStatements.
Are eStatements available for Pyramid FCU Visa Credit Card accounts?
Yes. you can access your Pyramid Visa Credit Card statements electronically. If you have enrolled to receive eStatements, you do not need to enroll separately for Visa. Historical eStatements will not be available for Visa. If you need a printed copy, stop by any branch for assistance.
More Questions?
Can I make a Stop Payment request in Online Banking?
Yes, you can send Stop Payment requests for a check or series of checks through the online Stop Payment request form. There is a fee for this service.
This is NOT for use with scheduled online Bill Pay payments. You need go to your Bill Pay menu and update any scheduled payments there. If a payment has already processed, you will need to contact Bill Pay Support directly at (866) 208-7735 or use the Live Chat feature.
Can I send a Travel Notification in Online Banking?
YES. You can use the Secure Message Center to send us travel notifications. DO NOT SEND THIS VIA EMAIL.
Please be sure to let us know the dates and locations you will be traveling, as well as which cards you plan to use (debit and/or credit cards).
Can I use Online Banking to change my address or phone number?
Currently, you are NOT able to update address and phone numbers in your online account. Call us at (520) 795-7950 to update.
Please DO NOT send this information via email. NEVER include your personal information, including your Account Number and SSN in an email.
The Profile Update feature is scheduled as a future enhancement.
Can I send Messages to Pyramid in Online Banking?
Like before, you can send the credit union a secure message via Online or Mobile banking. Our member services staff monitor the messages during business hours and reply within the next business day.
Since the Message Center is secured behind your login, you can ask account specific questions. We may ask you to contact us during regular business hours to verify your request. 
Will I be able to order checks through my Online account?
YES. You can order checks from within your Online Banking account. Check ordering is NOT available through the Mobile App.
From the More menu, select Order Checks, then select the account if you have more than one checking/money market account. After clicking on the desired account, you will be linked directly to the Harland Clarke check ordering site.
Pyramid's Routing Number and Your selected account number will populate the order form automatically. Be sure to confirm the account numbers and click 'Yes, start a new order."
Can I connect to Quicken/Quickbooks?
The Direct Connect feature for Quicken/Quick Books is not available at this time. We do not have an update at this time on whether this feature will be available in the future. 
What is JOY? Is this the same as Voice Teller?
Similar to Pyramid's Voice Teller service, JOY can help check balances, search for recent transactions, list deposits and withdrawals, transfer funds and schedule future transfers between internal accounts, set account alerts, and provide credit union information like routing number and locations.
Has the access phone number changed?
YES. To reach JOY dial the new number: (520) 775-0928. You can also access JOY at this number using SMS/Text messaging.
How do I enroll?
The first time you call the access number above, JOY will ask you to verify your account number and last 4 digits of your SSN (Primary Accountholder). After it is verified, JOY will ask you to set up a PIN. JOY will recognize the phone number you are calling from. If you call from the same number, JOY will just ask you to say PIN to authenticate. If you call from a different phone number, you will be asked to go through the authentication process again. We STRONGLY discourage using a public phone to access JOY.
Is JOY available 24/7?
YES. You can access JOY 24 hours per day, 7 days per week. If you need assistance from a Pyramid Member Service Representative, you will need to contact us during regular business hours at (520) 795-7950.
Can JOY tell me balances on all of my accounts?
YES. If you are the Primary Accountholder on more than one Pyramid account, JOY can provide you with all account balances. Just ask her for all accounts.
Will I be able to see transfers I schedule using JOY in my Online or Mobile Banking account? What about alerts?
YES. You will be able to see scheduled transfers and alerts you set up using JOY in your Online or Mobile Banking account.
How do I communicate with JOY? Are there specific commands to use?
Use natural language (English). Speak or text your requests as if you are talking directly with JOY.
What will happen if I get locked out?
If you enter an incorrect PIN five (5) times, JOY will lock you out. To unlock, you will need to contact us during regular business hours.
What if JOY can't answer my questions?
JOY will re-direct you to a credit union Member Service Representative during regular business hours.
Online Banking with Pyramid Federal Credit Union is quick, easy and convenient.