Celebrating the Class of 2020 | Munday Curd Scholarship Recipients
For the high school seniors from the class of 2020, none could have imagined when they stepped on campus at the beginning of the school year that it would end up in such a different place. Learning moved home and online, spring sports canceled, proms missed, and graduations gone virtual. While unplanned and certainly unexpected, these experiences will help shape the future for this resilient group of students. Facing adversity and challenges will no doubt lead to greater things ahead.
For the last 15 years, Pyramid Federal Credit Union has recognized and rewarded high school seniors with the Munday Curd Scholarship program. This year, we are happy to announce that we awarded 14 deserving young members with a $1,000 scholarship to help them further their educational goals.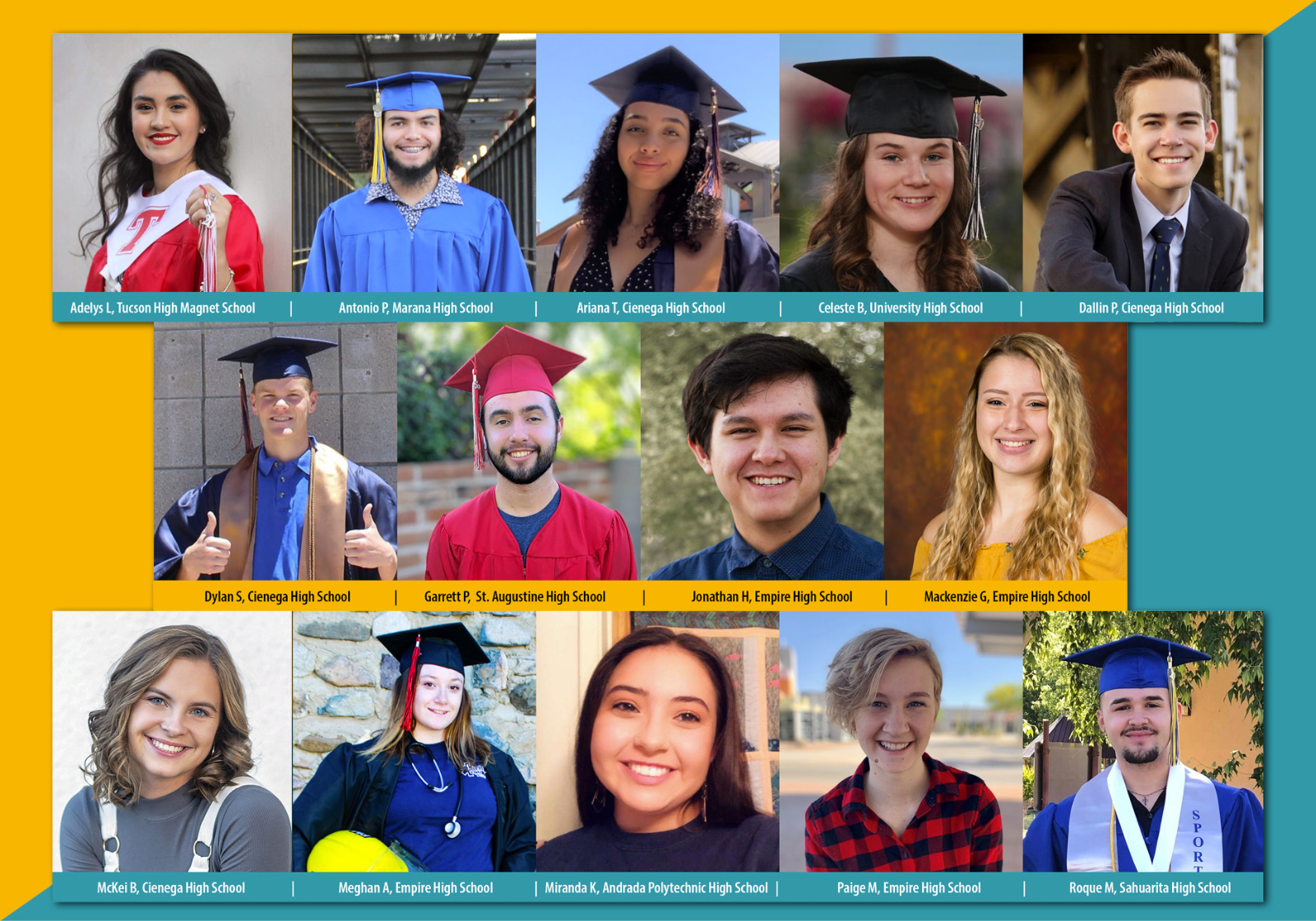 Congratulations to our 2020 Scholarship Recipients:
Adelys L — Tucson High Magnet School
A dedicated student, Adelys will join the Wildcat family at the University of Arizona College of Pharmacy. She knows that early spending and saving habits can greatly affect your future. Today's world crisis has opened a lot of eyes to the need for emergency funds including hers. Adelys has been a Pyramid member most of her life and takes comfort in knowing her savings are secure.
Antonio P — Marana High School
Antonio plans to study finance and sports management at the University of Arizona. After being sidelined by an injury, he hopes to keep his football dreams alive with the goal of managing an NFL team. Having parents with a finance background has helped him along the way in understanding the importance of financial responsibility. He likes keeping his hard-earned money local at Pyramid.
Ariana T — Cienega High School
Ariana will be attending Pima Community College this fall to pursue a career in nursing, after exploring different areas in the healthcare field. She believes that our financial decisions follow us as we grow, so starting early is key. As a Pyramid member, she trusts Pyramid to take care of her money, while also being an organization that gives back to the community.
Celeste B — University High School
Celeste will be bearing down at the University of Arizona this fall. She plans to study Natural Resources and Geographic Information Systems, with the goal of a career in the Parks Service as a field biologist. Celeste knows that financial management is key to a comfortable and happy life. A Pyramid member since elementary school, she has learned the value of saving and spending wisely.
Dallin P — Cienega High School
Dallin will be attending Brigham Young University to study nursing, with the goal of becoming a nurse practitioner. He believes that learning to be financially responsible creates a firm foundation for the future. Saving for college has been a great lesson about saving and spending wisely for Dallin, keeping his eye on the ultimate goal.
Dylan S — Cienega High School
Dylan will be attending the University of Arizona in the fall continuing his love of learning and achievement. His interests include geology and chemical engineering. Dylan believes that it is critical to keep your finances in balance. He appreciates that he can keep his money safe and growing at Pyramid to help him pursue his dreams.
Garrett P — St. Augustine High School
Garrett plans to attend the W.P. Carey School of Business at ASU to study finance, with the goal of becoming a financial advisor. Growing up in a financially literate household, he was taught the dos and don'ts of managing money. He also likes the Pyramid Zogo App and competes with friends to earn more pineapples – having fun while learning financial responsibility!
Jonathan H — Empire High School
Jonathan plans to study both the Arts (Music) and Sciences at the University of Arizona, building on his many diverse interests. Starting with just a savings account, he learned the importance of putting money away for the future and that making good decisions about spending leads to financial responsibility. Jonathan has enjoyed the connections he's made at Pyramid.
Mackenzie G — Empire High School
Mackenzie has already gotten a jumpstart on her college career, earning 42 credits through the Vail School District's Early College Program. She's looking forward to transfer that experience to the University of Arizona to continue her studies in Physiology, and later Medical School. Mackenzie understands the value of having an emergency fund and being prepared for unexpected expenses.
McKei B  — Cienega High School
McKei plans to attend Utah State University to study Exercise Science and Athletic Training. McKei understands that financial responsibility helps create positive habits leading to a higher quality of life. She enjoys the sense of community and personal service she gets as a member of Pyramid.
Meghan A — Empire High School
Meghan will be attending Pima Community College to pursue a career in Fire Science and Emergency Medicine. She believes that being financially responsible is a life lesson that begins with understanding the difference between needs and wants. Meghan enjoys Pyramid's digital tools, like Mobile Banking and the Zogo financial literacy App which helps her stay on top of her finances.
Miranda K — Andrada Polytechnic High School
Miranda will be heading to Phoenix to study Athletic Training at Grand Canyon University. Having a job helped her learn quickly about things like the importance of using a credit card wisely, saving for the future, and how to keep a good credit score. She has an "every penny counts" attitude toward money.
Paige M — Empire High School
A make-it-happen young woman, Paige will be heading to Boise State University in the fall to study political science and religious studies. For Paige, learning to be fiscally responsible began when she started earning her own money and will continue as she navigates living on her own making good decisions. Beginning at age 6, she started building her Pyramid savings account and continues to grow using the credit union services wisely.  
Roque M — Sahuarita High School
Roque will be heading to Flagstaff this fall to study Civil Engineering and Business, working toward his dream of owning and managing his own construction company. He believes it's very important to balance and spend money responsibly. Roque credits his Mom for helping to give him a solid foundation and looks forward to taking on more financial independence.
---
Helping our members achieve financial responsibility and security is at the core of what we do at Pyramid. And helping our young members pursue their dreams is icing on the cake.
The Munday Curd Scholarship started back in 2005 to honor the legacy and contributions of Pyramid's first Manager. Mr. Curd personified the credit union "people helping people" philosophy for almost 30 years. He guided Pyramid's growth from just $10,000 in assets to $3.8 million; from one employee in a back bedroom of his home for an office, drawing $150 a year salary to 13 part-time employees in a four-room office before retiring in 1977. Today, at nearly $180 million in assets and over 60 employees, Pyramid owes our success and future to Mr. Curd's solid financial stewardship and compassion for our members and community. 
As the world continues to bring new challenges and opportunities, we wish all of the class of 2020 much success as they pursue their goals and dreams.