Celebrating 91 Years of Service 1929-2020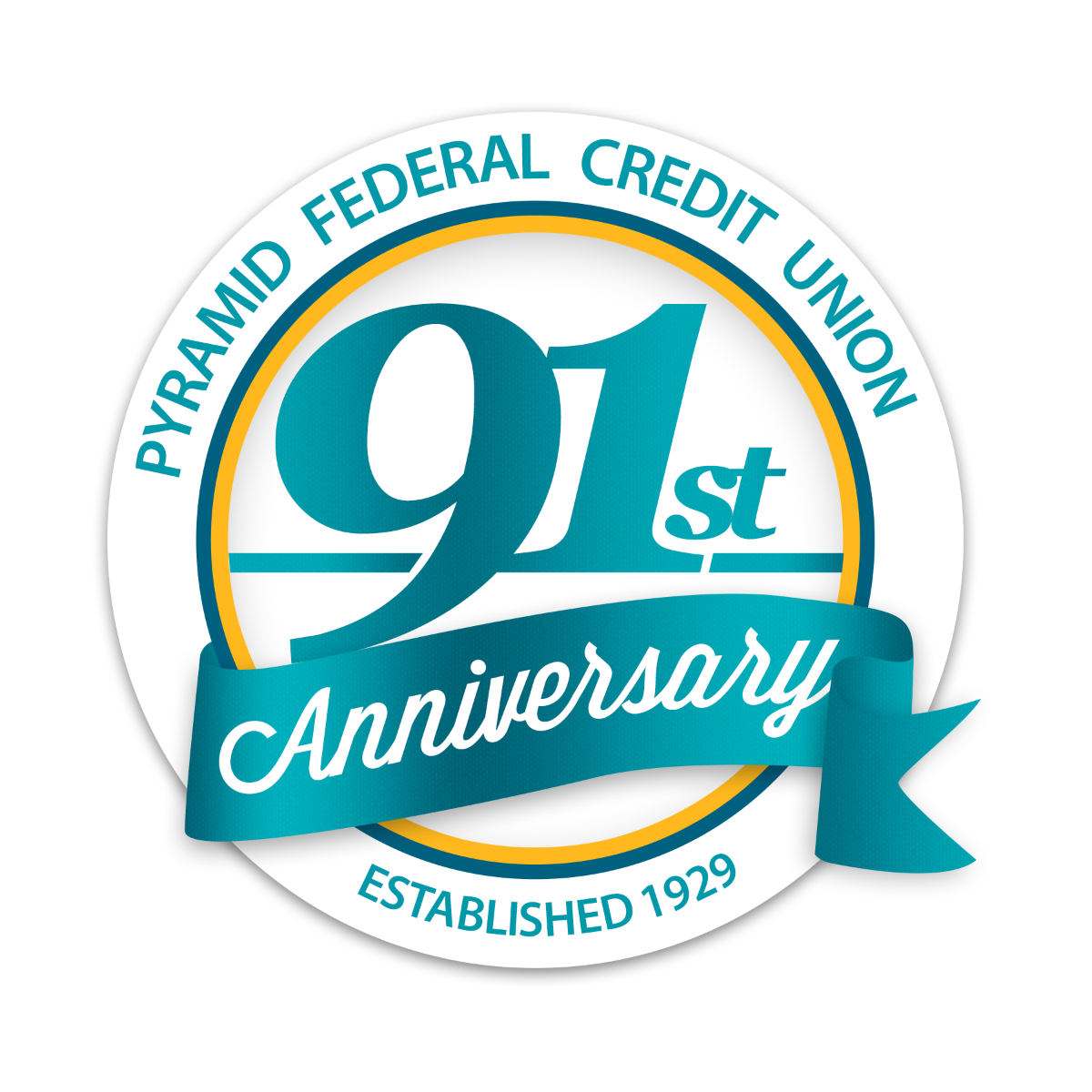 To Thrive: To prosper. To be fortunate or successful. To grow or develop vigorously. To flourish.
In the fall of 1929, Pyramid's forefathers embarked on a momentus journey that would help tens of thousands toward prosperity, despite severe financial hardships as the nation plunged into the decade-long Great Depression. Then and now, it is by and for our members that we continue to thrive.
As we celebrate 91 years of service, we wanted to take this opportunity to share some ways that Pyramid has helped our members and our community thrive throughout the years… in their own words.
A Few Employee Shout-Outs from Our Members:
Shelly, Robert & Anna at the Rita Ranch branch helped a new member earn more on his savings. | I was in yesterday to deposit a check and Shelly gave me info on the money market account. I brought the info home and stopped back today and wanted to thank her personally but she was on telephone duty. Please extend my appreciation to her for her kind and professional service. Anna completed the transfer and setup with a little help from Robert.  It was nice to see the teamwork. Thank them both as well.  Never disappointed when I come to visit.  Stay safe and stay well to all. Keep up the excellent work. -Robert, new member in 2020
Jonathan from the Lending/Collections Department helped this member with a total vehicle loss and a very long GAP process. | Thank you for all of your assistance with this process. You have put up with all of my calls and you have always been polite and helpful. Not sure if you could tell, but it was very stressful for me, but you kept reassuring me that everything was going to be taken care of and you were right! You are a true asset to Pyramid Federal Credit Union. I hope we can do business again in the future. Again, thank you. –Teresa, member since 2018
To the Grant Road Branch Staff | Best credit union ever. They have been so helpful and understanding for my husband and I during a very stressful time in our lives. –Rachelle, member since 2014
Camille and the Oracle Branch Staff | I wanted to THANK YOU for your time and patience; and making this loan possible! Can't tell you how much my family and I appreciate You and what the credit union offers to make a dream possible! -Christopher, member since 1986 who bought his dream car with a Pyramid loan
Member Mortgage Stories: YES, We Do Mortgages!
James and Diane have been members since 1994, and part of our early Postal Service roots. Throughout the years, they have looked to Pyramid to help improve their financial lives. A few years ago, they started seriously looking ahead toward retirement. They refinanced their home loan to pay off debt, lower their mortgage balance and shorten the term. Fast forward while they were relaxing one evening on their porch Diane had a heart attack with no prior warning signs and was forced into retirement. Earlier this year, Diane unfortunately had a 2nd heart attack. The mounting medical expenses and debt lead them to another refinance to manage their finances. And while their dreams of retirement were not to be fulfilled as planned, Diane is doing better today. With every refinance the Hobsons always express their gratitude to Pyramid and know that they can count on us to help them through the difficult times.
Beth, Pyramid member since 2015. Finally! An institution that really does want us to succeed. Like a lot of folks, we were put in a hard place with our home loan due to the great recession. We worked hard for about four and a half years with various different banks to try to get into an appropriately priced mortgage. The experience was daunting and we got such a string of bad service. We finally got a referral to Pyramid Federal Credit Union. The folks we worked with actually did what they said they could. Finally people who will think outside the box and actually find a way to make it work! The process wasn't perfect, but the people at Pyramid FCU were persistent and committed. After all the years trying to get to a better financial place, finally we are there! I wish we had been introduced sooner.
From Member Reviews:
Regular people helping regular people achieve great things! -Debbie
I no longer live in Arizona but have continued to bank with Pyramid because the staff is so friendly and helpful. –Shannon
Any service they offer, they are the best in the state of Arizona. They are extra good at helping rebuild credit!!! -Dennis
All of the employees are great. No matter which branch you go to. I do not bank anywhere else, checking, savings, auto loan and home loan. -Susan
The best credit union. Caring, helpful and they stand behind you. -Lee
I have been with Pyramid for 17 years. I love that they know me when I come in. The employees are kind and knowledgeable. Unlike big banks there aren't fees for everything and they don't try to upsell. Their car loan rates are very low and they offer shared branches so that you can use another credit union if you aren't near Pyramid. I highly recommend them. –Anonymous Review
From Some of our Community Partners:
What an amazing and supportive community we live in! Pyramid Federal Credit Union named Therapeutic Riding of Tucson (TROT) as the recipient of their Caring is in Our Jeans community outreach program! We are grateful for your support and your belief in the power of TROT!
Thank you Pyramid Federal Credit Union for your continued generosity. It is only with the support of organizations like yours, and caring people like your staff and members, that we're able to help the least, last, and lost in Tucson. We're so grateful for you all! –Gospel Rescue Mission
Thank you so very much, Pyramid Federal Credit Union! Your generosity and compassion are appreciated. What a great team effort to show how much you all care! This donation is to support services to veterans who are engaged with our various emergency services programs. –Primavera Foundation
CCS is grateful to the employees of Pyramid Federal Credit Union for selecting us to be the recipient of their Caring is in Our Jeans Community Outreach Program. Their donation will go towards families in need as a result of the pandemic. –Catholic Community Services of Southern Arizona
Thank you Members. Thank you Tucson. Together We Thrive.