Safe Online Shopping Tips for the Holiday Season
Like many things in 2020, the holiday shopping season is expected to look and feel very different from previous years.
Traditions of early morning campouts at local retailers for the hottest Black Friday deals and crowded shopping malls from Thanksgiving through December will likely be replaced with online shopping. In fact, many retailers have already started promoting online sales to encourage consumers to move to remote purchases.
Before you get settled in a comfy chair in front of the computer to start shopping, be sure to take some precautions to protect yourself and your finances. First, make sure that your computer or mobile device is using the most up-to-date system and application software!
Watch this Short Video about Shopping Online Safely.
Here's some additional information from the Federal Trade Commission about shopping online:
Know Who You're Buying From
Today there are so many online merchants wanting to sell you something. You've probably seen the offers pop up on your searches or as Facebook ads. They know exactly what you're looking for and they'll even personalize it with Buddy's name and paw print. You've seen it right?
Now more than ever, the saying "Let the Buyer Beware" is critical. Research the vendor and read online reviews before you enter any personal information. Legitimate companies will have secure ordering and payment options, as well as customer service contact information. Make sure the website address start with https (the "s" stands for secure) when you're checking out.
Also, check the return and refund policies. Not all stores have the same rules for returns. Some charge fees for return shipping or restocking. Most legitimate sites will provide tracking options so you can monitor your purchase.
Know What You're Buying
A "too-good-to-be-true" deal is usually just that. You may end up with refurbished or out-of-date items, substituted goods, or even worse, counterfeits.
Know What It Will Cost
Before you hit the "Check Out" button, make sure you understand the full cost. Shipping and handling costs can add up. Be wary of "free trial" or "free shipping" offers as they may come with you unknowingly signing up for future subscriptions and charges.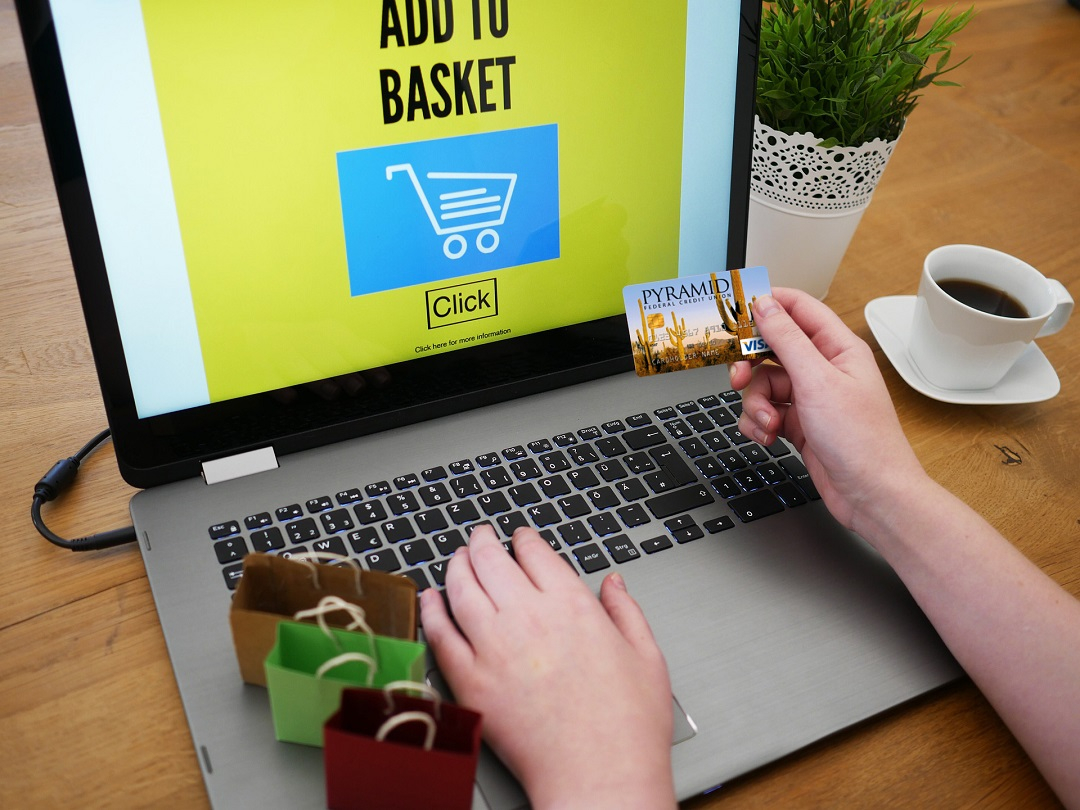 Pay by Credit Card
Paying by credit card provides some added benefits over other forms of payment. Your credit card transaction is protected by federal law, giving consumers the right to dispute unauthorized charges, errors, and undelivered or poor quality goods or services. To learn more about disputing credit card charges, click here.  Remember, the law only applies to open-end accounts like credit or department store charge cards, NOT debit cards or installment loans.
How to Report Online Shopping Fraud
If you have problems with a transaction, try to work it out directly with the seller, buyer, or site operator, first. If you aren't having any success with the merchant and you used your Pyramid Federal Credit Union VISA credit card, give us a call at (520) 795-7950 and we'll help you file a dispute. If you use our Online or Mobile Banking, you can immediately block your card from future unauthorized charges.
Taking a few extra precautions when shopping online can help keep the happy in your holidays.