Pyramid wants to know how we can help you... more.
  AUTO LOANS  
If you're ready to hit the road in a new or used car, truck, motorcycle—even boats and RVs, a Pyramid vehicle loan can put you in the driver's seat. We offer Pyramid members:
•    Low rates and flexible terms
•    Loan protection: GAP Insurance, Mechanical Repair Warranties, Debt Cancellation
•    Vehicle Purchase Partnerships
•    Discounted Auto Insurance with TruStage
APPLY NOW!
  VISA CREDIT CARD  
Credit cards can be a convenient way to pay for purchases and build a credit history. Get the credit card you deserve, and enjoy worldwide acceptance and VISA zero liability fraud protection!
•    Low Introductory rates for the first 6 months
•    No Annual Fee
•    EMV chip technology for added security
•    No Over Limit Fees
•    One low rate for purchases, cash advances and balance transfers
  HOME LOANS  
If you are buying your first home, refinancing your existing home, or looking to tap into your home's equity–we're here to help.
Pyramid offers a wide variety of home loans so we can find one that best meets your needs. Whether you're looking for a low fixed rate, flexible terms, or to purchase a second home, we have you covered.
CONTACT A SPECIALIST!
  FREE CHECKING*  
Our free Checking account is simple, secure, and convenient. Manage your money with free Online and Mobile banking, easily access your funds with a Visa debit card, and receive eStatements with no monthly service fee and no minimum balance.
•    24/7 account access with secure Online and Mobile banking
•    Free and easy online Bill Pay
•    Instant Issue debit card, accepted everywhere Visa®  cards are accepted
•    Free access to cash at over 85,000 ATMs across town or around the world
•    Combine with Round Up Savings for added value!
*Basic Free Checking account fee disclosures. Insufficient Funds Fee(NSF) - $29. Fees for overdrafting accounts(ODP) are fees imposed for overdrafts created by checks, in-person withdrawls or other electronic transfers - $29. Bad Address fee - $10 monthly.
  ROUND UP SAVINGS  
Don't think those pennies add up? Pyramid offers a great way to change the way you think of saving. It's simple. Every time you make a debit card purchase, we'll round up the total amount to the next whole dollar. That spare change is then automatically transferred from your checking to your Round Up Savings account where your first $1,000 will earn above-market dividend rates!
  GOAL SHARE CERTFICATE  
Saving doesn't have to be difficult. Check out how easy it is with a GOAL Share Certificate:
•    Minimum deposit of $25. Add to it any time with any amount.
•    Balances up to $1,000** earn 2.00%  Annual Percentage Rate (2.015%APY)
•    12-month term
•    Dividends paid quarterly
•    Eligible for withdrawal without penalty every 90 days
**Balances over $1,000 earn regular savings rate as published at the time $1,000 maximum balance is reached. Other restrictions apply.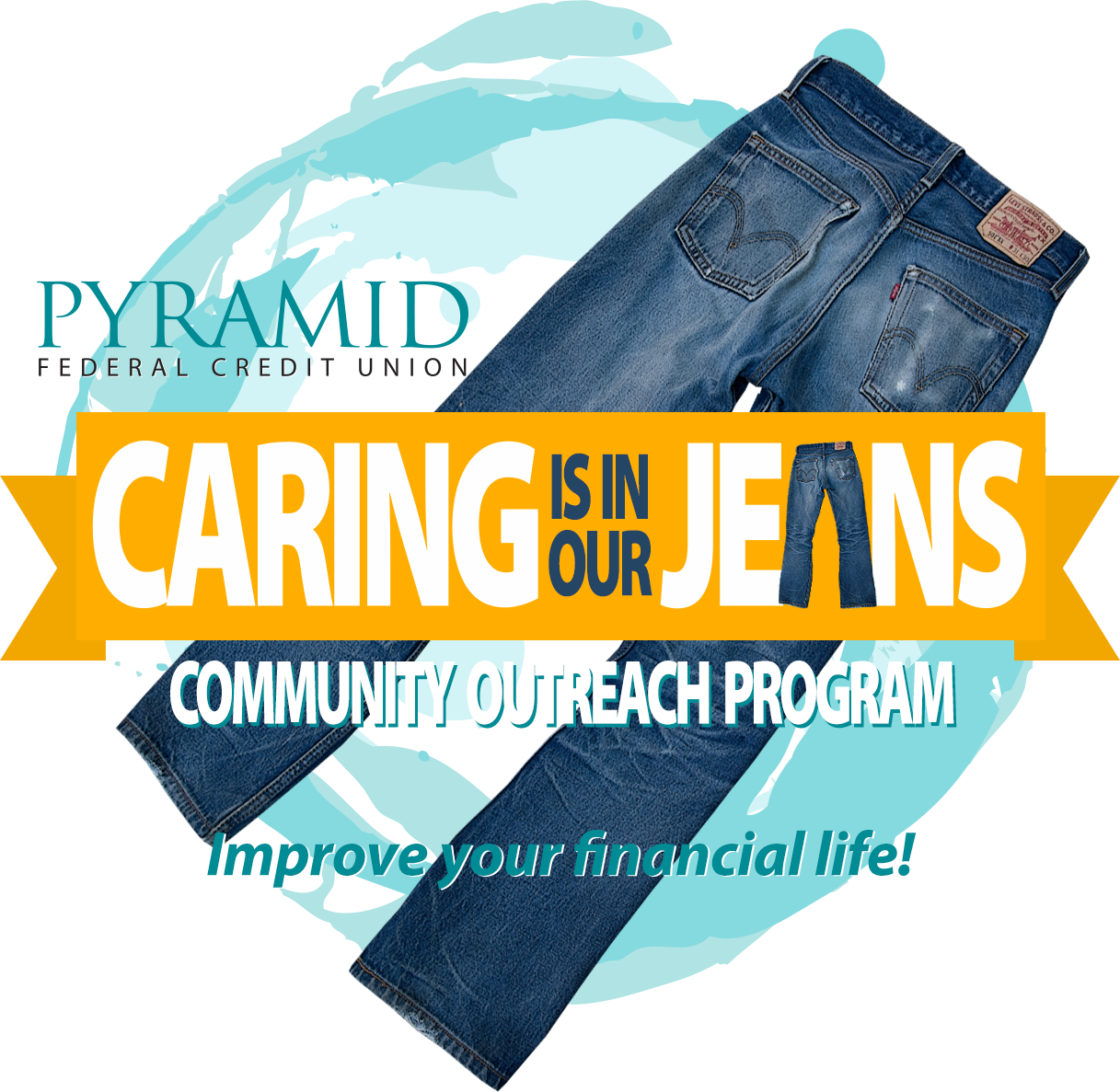 One of the greatest feelings in life is giving to others without reward. Here at Pyramid Federal Credit Union, our employees have a community outreach program called Caring Is In Our Jeans. This grassroots community outreach program is a point of pride for Pyramid staff and members.
Through the program, we support a multitude of deserving community-based organizations selected by our staff and members. All to do, more!