Safe Holiday Shopping Tips from Visa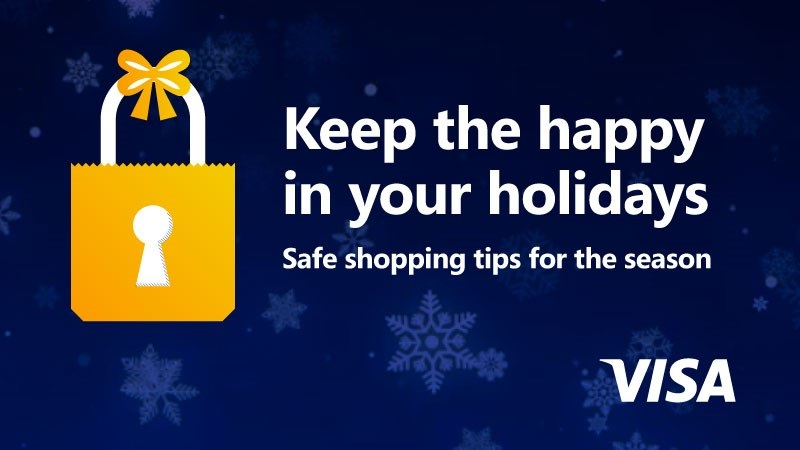 The countdown is here!  If you've found yourself among the many scouring stores and websites for last minute holiday gifts, here are a few important reminders from Visa.
While shoppers are busy trying to get the biggest bargain, fraudsters and scammers are also busy targeting consumers who have their guard down. Holiday spending is expected to grow by more than 4.1 percent in the U.S. according to experts from Visa, and criminals are looking for their share of the billions of dollars that will be spent between now and the end of the holiday shopping season. 
While fraudsters change their approach and scams each year, there are several simple steps consumers can take to protect themselves from fraud when making purchases during the holidays and throughout the year. 
1.  Pay Securely In Store
Use a payment card with a chip or contactless symbol on it to protect your data from being stolen in the event of a data breach.
2.  Pay Securely Online
Click to pay with Visa for an extra layer of protection and ALWAYS check the payment URL to make sure it begins with "https://" -- the "s" at the end confirms a secure connection.
3.  Pay Securely In-App
Update your password with a strong password unique to each account, or better yet, switch to fingerprint or facial recognition for account login or payments if it's available.
4.  Look out for Phishing Scams
Be wary of unsolicited or suspicious emails or phone calls. They may try to steal personal information like your account number, username or password.  Remember, Pyramid will NEVER email or call you asking your to provide your personal account information. If in doubt, give us a call at (520) 795-7950.
5.  Update System and Application Software
Install the latest software before shopping on your computer, tablet or phone. Updating software helps protect from vulnerabilities.
(c) Visa 2019. All Rights Reserved